Although smart technology continues to completely alter the way humans in the modern world communicate and obtain information, the global web of connected devices, sensors, software, and systems has scarcely scratched the surface of potential for social good. As research plows forward into the Internet of Things and cyberphysical systems with great promise to transform the human-built landscape, civil and environmental engineers are among those helping to shape a more technologically connected future. Meet four CEE faculty members who are advancing research on how to use smart technologies:
Assistant Professor Candace Brakewood
Uncovering behavior of bikeshare riders
Recent research from Brakewood and her collaborators involves mining smartphone app data to better understand bikeshare user behavior. The team's analysis focused on a widely used app known as Transit that provides public transit and shared mobility information in over 175 cities worldwide. This app can also be used to unlock bikeshare bicycles in some cities, including Chicago. The research team developed an algorithm to identify bikeshare users who make a short trip, return a shared bicycle, and immediately check out another bike, presumably to avoid paying extra usage fees for trips over 30 minutes. The algorithm revealed that 27.3 percent of Transit bikeshare users in Chicago exhibited this cost-saving behavior. The results of this research are important for bikeshare providers to understand the impact of pricing policies, particularly in encouraging the turnover of bicycles. Read the full study in the May 2019 edition of the Transportation Research Record: Journal of the Transportation Research Board.
Assistant Professor Jon Hathaway
Smart stormwater systems
Hathaway is leading the first phase of a collaborative research project funded by the National Science Foundation to identify whether adding technological capabilities to stormwater systems will help cities control flooding and adapt to changing climates. Whereas most cities have some physical form of storm management in place, having a smart stormwater system would give managers greater capability to adjust and respond as needed during storms. His research includes studying 20 bioretention columns housed in an experimental greenhouse. The columns are equipped with water level and soil moisture sensors to better monitor their performance and provide key insights as to how technology can modify natural biogeochemical processes. Once the first project phase is complete, colleagues at
the University of Virginia will begin scaling the lab results to a full-sized bioretention area. Later, researchers at the University of Michigan will use computer modeling to understand how these individual practices can be controlled in concert to achieve watershed-scale benefits.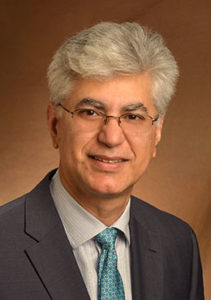 Beaman Professor Asad Khattak
Testing and certification of autonomous vehicles
Khattak's latest collaborative research with UT Chattanooga, UT Space Institute, and East Tennessee State University aims to take knowledge about the automation of air and space vehicles to see what can be applied to connected and automated vehicles (CAVs) for daily use. While CAVs might be more than a decade away from integrating into the mainstream US transportation system, Khattak is hopeful they can transform the transportation industry to reduce traffic fatalities, which are currently more than 1,000 per year in the state of Tennessee and 38,000 per year in the US. CAVs can also mitigate traffic congestion, which costs $1.1 billion
annually in Tennessee's four largest cities. In their TDOT-sponsored project, Khattak and his project partners are working toward a testing and certification system to ensure that, as vehicles become more automated and connected, there are proper safeguards in place to protect human life.
Assistant Professor Shuai Li
Mapping subsurface infrastructure
Through a grant from the National Science Foundation, Li is researching how sensor-equipped autonomous vehicles can help map the infrastructure beneath a city and how that map can be used to navigate autonomous vehicles in distressed urban areas during and after natural and man-made disasters. Under city roads exist water pipes, utility cables, and gas lines, so having the ability to digitally map this infrastructure can vastly improve safety when digging is required. The project involves using multiple CAVs with ground-penetrating radar
technology to collect radargrams of subsurface infrastructure along coordinated trajectories.